History lesson Saransk is the smallest of the World Cup host cities and, to Russians, was a surprising choice of venue – particularly when a football-loving city such as Krasnodar, to the south-west, will have an outstanding facility sitting idle next year. But Mordovia Arena, whose construction began in 2010, should serve its purpose well enough and is situated near enough to both railway station and newly completed airport for a swift getaway if supporters are seeking brighter lights.
Star attraction There is nothing particularly flashy here although the stadium's brightly coloured exterior, intended to reflect the rich palette of the Mordovia region's arts and crafts, will hopefully be photogenic.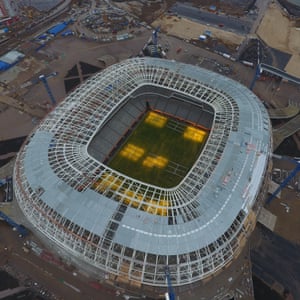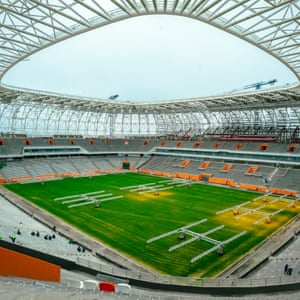 Any hitches? Construction has been considerably delayed – not least due to a lengthy suspension between 2013 and 2015 – so Mordovia Arena is one of next year's stragglers, although it should be ready in time to host its first test event in April.
Legacy Capacity will be scaled back to around 28,000 and local side Mordovia Saransk will move in. They lead the Ural-Povolzhye section of Russia's regionalised third tier and have a habit of moving between the top three tiers – although their most recent attendance of 1,128 for a match with Chelyabinsk suggests it may be a while before the inhabitants of a town that has never been football mad flock to the new facility. The commercial facilities indoors will probably be subject to a heavy sell, while other sports will be played on the site.