Rostov Arena
Capacity:Â 45,145
Completed:Â December 2017 (expected)
Cost:Â $330m
Games hosted at Russia 2018: Group E, 17 June; Group A, 20 June; Group F, 23 June; Group D, 26 June; Round of 16, 2 July.
History lesson Situated on the banks of the River Don, this is another brand new facility and one that – like several of its peers – has suffered a few false starts. Eventually construction began towards the end of 2014 and the finishing touches should be complete by Christmas, although this is seven months after the originally mooted completion date.
Star attraction According to the blurb, Rostov Arena will be notable for its roof – which apparently imitates the meanderings of the river. There are attractive views over that and the south-west Russian city.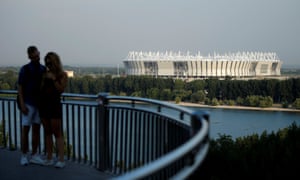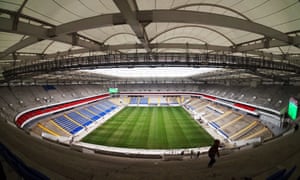 Any hitches? In common with some of the other stadiums, the plans for Rostov Arena were downsized after original projections were judged to have overreached. The initial plan was a joy to behold – a modern, teardrop-shaped venue that promised to be unique. Eventually spiralling costs put paid to that; the pared-down version is fine but will have little to really distinguish it from the rest. Despite these conscientious efforts to save money, reports suggest the end product will have cost only 15% less than had been planned for its more lavish predecessor.
Legacy FC Rostov, who were known as the "Russian Leicester" during their surprise title push two seasons ago, will move in. The capacity will be reduced by around 5,000. The stadium will be the focal point for a wider redevelopment of the Don's left bank – with shops, restaurants and business premises planned.