Kazan Arena
 
Capacity:Â 45,379
Completed:Â July 2013
Cost:Â $439.7m
Games at Russia 2018 Group C, 16 June; Group B, 20 June;Group H, 24 June; Group F, 27 June; Round of 16, 30 June;Quarter-final, 6 July.
History lesson Kazan considers itself Russia's "sporting capital" and the Kazan Arena is one of an impressive array of stylish, modern – and expensive – sporting facilities to have sprung up there in recent years. It was designed by Populous, the architects behind Wembley and the Emirates, and was built in time for the 2013 Summer Universiade, where it hosted football and athletics. As a sleek, modern facility it will serve the World Cup well – even if it will, amazingly, be one of the tournament's oldest stadiums.
Star attraction Anyone who gets lost en route should just look for the high-definition screen – the world's biggest outdoor one, organisers proudly proclaim – on the side of the stadium. It covers 4,030 square metres and will probably bear both competing nations' flags on a given matchday. Those arriving from the air may want to appreciate the waterlily-themed roof of this riverside stadium.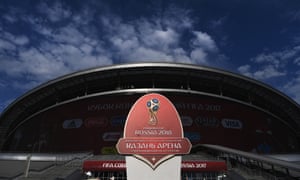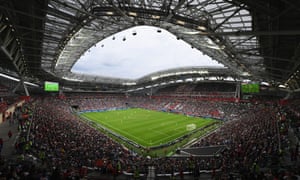 Any hitches? Nothing major. The Confederations Cup was a successful dry run and the Russia v Iran friendly went off without any problems in October. Access could be better though: the stadium lies to the north-east of the city centre, away from the metro, and taxis were sometimes discouraged from operating in its vicinity during last summer's tournament.
Legacy Rubin Kazan, the Russian Premier League side, moved to the Kazan Arena from the Communist-era Central Stadium – which is situated near the city centre and well worth visiting – in 2014 and will continue to be based there. In common with most of next summer's stadiums there are plenty of seats to go round for club games: Kazan's most recent home fixture, against CSKA Moscow, attracted 8,422 fans. In order to pay off the cost of a facility that ended up costing nearly three times more than the initially mooted $155m there will be an emphasis on hosting cultural and commercial events too – and if Kazan's long-term ambitions bear fruit it could even host Olympic events one day.