Capacity:Â 35,212
Completed:Â December 2017 (expected)
Cost:Â $300m
Games hosted at Russia 2018: Group D, 16 June; Group E, 22 June; Group B, 25 June; Group G, 28 June.
History lesson This brand new facility will provide the Russian exclave, squeezed in between Poland and Lithuania, with an impressive stadium whose concept was originally based on the Allianz Arena. It is situated on Oktyabrsky Island, to the east of the city centre – a picturesque setting that had effectively been a wilderness for many years until this project began.
Star attraction The location is probably Kaliningrad Stadium's most seductive factor. Design-wise, the stadium is fairly functional even if it is easy enough on the eye.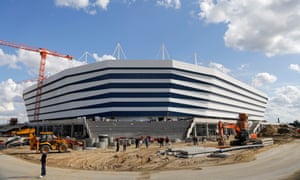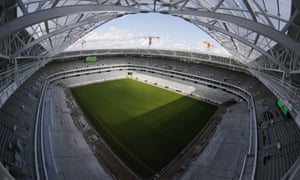 Any hitches? Oktyabrsky Island has proved a difficult location, largely because wetland grass does not make the soundest foundation for major structures. The original, more ambitious, design for the stadium included a bigger capacity and a retractable roof: financial concerns ended up scuppering that, as did the fact that the company which drew up the plans went bankrupt four years ago. It all meant that ground was not broken on the revised, simplified project until September 2015 but Kaliningrad will be ready for the World Cup.
Legacy The capacity will be cut to around 25,000 after the World Cup and Baltika Kaliningrad, the local side, will play here. It risks being another venue that is rarely filled: the club have not played in the Russian top flight for two decades and typical crowds at their current Baltika Stadium home number in the low thousands. Concerts and other events are also expected to take place here, though. Beyond sport, Oktyabrsky Island and its surrounds will benefit from a new residential development as well as parks and riverside embankments.