Capacity:Â 45,360
Completed:Â September 2014
Cost:Â $430m
Games hosted at Russia 2018: Group D, 16 June; Group H, 19 June; Group G, 23 June; Group E, 27 June; Round of 16, 3 July.
History lesson The Otkrytiye Arena was conceived as a home for Spartak Moscow – who had never really had a home to call their own despite their status as one of Russia's leading clubs. A long-term project to change that finally gathered speed in the mid-2000s, with ground broken in July 2007. It proved something of a false dawn, with a number of delays and quibbles about the design putting the project on ice, but by September 2014 Spartak at last had a permanent abode, the Russian national team had another occasional venue – and the World Cup had a stadium that should be popular among supporters.
Star attraction The statue of the Thracian gladiator Spartacus, situated in front of the stadium, will be the most popular photo opportunity for visitors here – while the outer shell of the ground, usually strikingly patterned in Spartak's red and white, can take on the colours of the Russian flag. But the arena itself is enjoyable to spend time in – it was purpose-built for club football and feels that way. The stands are close to the pitch and it is easy to generate an atmosphere, as around 15,000 Chile fans showed to fine effect at the Confederations Cup.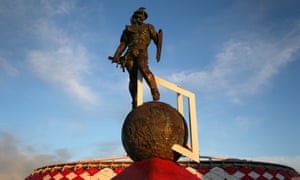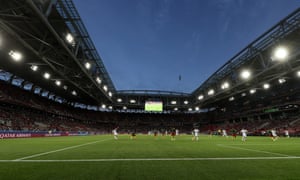 Any hitches? Nothing significant where World Cup preparations are concerned, although the stadium was originally due to be completed before Russia's hosting was even announced. It proved a fun, lively venue last summer; a minor gripe would be that, although the stadium has its own metro station and is easy enough to access in around half an hour from the city centre, those looking to get out quickly afterwards may find congestion scuppers their best-laid plans.
Legacy Spartak will continue playing here, and the national team will doubtless make further appearances. Several major rock concerts have taken place inside the stadium, a trend that will doubtless continue. A new residential development is also planned for an area that, although not unfavourably situated, is somewhat barren.