Luzhniki Stadium
Capacity:Â 80,000
Completed:Â June 2017
Cost:Â $400m
Games hosted at Russia 2018: Group A, 14 June; Group F, 17 June; Group B, 20 June; Group C, 26 June; Round of 16, 1 July; Semi-final, 11 July; Final, 15 July.
History lesson The grand dame of Russia's stadiums may not need too much introduction. She has been around since 1956 and has a long, eventful history that includes hosting the 1980 Olympics, the 1999 Uefa Cup final, the 2008 Champions League final between Manchester United and Chelsea, and the 2013 World Athletics Championships. In Communist times it was known at the Central Lenin Stadium and was the most important ground in the USSR. It has hosted more than 3,000 games at club and international level – the latest being this month's friendly between Russia and Argentina, which was its official reopening after an extensive renovation before the World Cup.
Star attraction This is one of those stadiums whose history you can smell as soon as you get within a few hundred yards. Its classic Soviet facade has been preserved and anyone attending a game will almost certainly walk past the huge statue of Lenin that guards the front entrance. From the concourses there are fine views over the city, and especially the spectacular Moscow State University building. The modernisation has been carried out tastefully: it is a stadium fit for a World Cup final.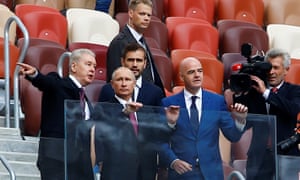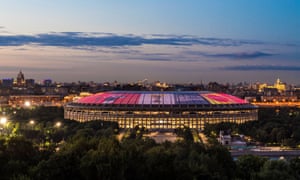 Any hitches? Nothing major, although a small fire in October 2015 caused brief alarm. The renovated ground was delivered on time and the Russia v Argentina match was, a defeat for the hosts aside, a successful dry run for next summer. There were long queues to access the transport system after that game, though: a useful tip could be to dart south-east and head out to Vorobyovy Gory station rather than joining the hordes looking to access the Luzhniki or Sportivnaya stations to the north.
Legacy Luzhniki's place in the future of Russian sport is perfectly secure. It will be the national team's home, even though they will doubtless make use of the other major facilities that have sprung up for this tournament, and will continue to host big domestic games too. Further European finals are surely a possibility.