Saint Petersburg Stadium
 
Capacity:Â 64,287
Completed:Â April 2017
Cost:Â $1.5bn (rumoured)
Games hosted at Russia 2018: Group B, 15 June; Group A, 19 June; Group E, 22 June; Group D, 26 June; Round of 16, 3 July; Semi-final, 10 July; Third place play-off, 14 July.
History lesson Krestovsky Stadium was supposed to be one of the world's most exciting, cutting-edge sports arenas. That may still be the case but the path here has been fraught with delays, soaring costs and numerous controversies – denting the pride many in Vladimir Putin's home city feel about its new attraction. It took a decade to build and was finished eight years after the originally mooted completion deadline. That would have predated Russia's securing of the World Cup and made for a much smaller, lower-key venue; the project rapidly escalated in scope after 2010 and it became, according to some estimates, the world's most expensive football stadium.
Star attraction The stadium is, for those not counting the cost at least, worth the wait. Its vertiginous stands are spectacular, the views out on to the Gulf of Finland from behind the seats are wonderful and the 'Spaceship' design is unmistakable. For anyone wanting to make sure of a few thrills before the football kicks off, the vast park on the approach to the ground contains a number of decidedly white-knuckle rollercoasters.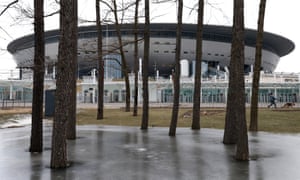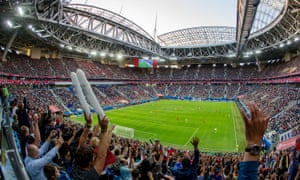 Any hitches? Far more than could be listed in this space. But the practical niggles encountered in the past year or so have commanded particular attention – they include a serially leaky roof, which some officials have attributed to damage caused by cormorants, and a pitch initially found to have vibrated seven times more than the permissible limit. Concerns have also been raised about the levels of formaldehyde and ammonia in the materials used to finish some of the internal structure. On a matchgoing level, thousands of supporters were caught out by the mile-long walk from the nearest metro station at the Confederations Cup, meaning the stadium started filling up only towards half-time. These troubles perhaps pale into insignificance when last year's in-depth investigation by the Norwegian magazine Josimar, which alleged at least 110 North Koreans had been working at Krestovsky in atrocious conditions, comes into play.
Legacy Zenit St Petersburg will continue to play here – after some early false starts that saw them return to their old Petrovsky Stadium – and hope that the facility helps them push on in their quest to become a more consistent European force. Whether they can ever fill it remains moot, although nearly 50,000 came through the turnstiles for a recent match against nearby Tosno.