apacity:Â 35,696
Completed: December 2017 (expected – upgrade of stadium originally built in 1957)
Cost:Â $215m
Games hosted at Russia 2018: Group A, 15 June; Group C, 21 June; Group H, 24 June; Group F, 27 June.
History lesson As with the Luzhniki some 1,000 miles away, the old Central Stadium in Ekaterinburg has been renovated for next summer's competition. It is a year younger than the national stadium, dating back to 1957, and is the long-term home of Soviet league stalwarts Uralmash – these days known as FC Ural. Full international football has yet to take place here although Russia's under-21s have passed through three times. The ground's biggest past dalliance with global significance came in 1959, when it held the World Allround Speed Skating Championships.
Star attraction The new stadium soars high above the vestiges of its predecessor but does, at least, retain the old facade – which, like at the Luzhniki, is quite a work of art. But the biggest point of interest may be the temporary stands behind each goal that sit outside the main stadium structure. Such a bizarre sighttriggered widespread media interest, and some ridicule, in October.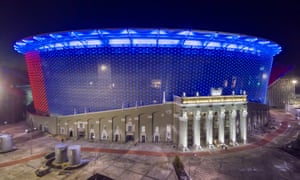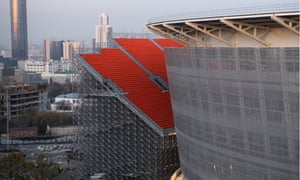 Any hitches? It took some time to settle on a final design, mainly in order to preserve the existing facade, so construction started fairly late. The solution that has been settled upon is certainly eccentric, but Fifa insists the temporary stands were the most cost-effective and practical way to ensure the required 35,000 capacity. Just make sure you bring your binoculars.
Legacy Those temporary stands will be taken down and capacity reduced to a very manageable 23,000 – which seems about right for FC Ural, who will play here after the World Cup and currently sit mid-table in the Russian Premier League, to grow into.