Capacity:Â 44,899
Completed:Â December 2017 (expected)
Cost:Â $290m
Games hosted at Russia 2018: Group F, 18 June; Group D, 21 June; Group G, 24 June; Group E, 27 June; Round of 16, 1 July; Quarter-final, 6 July.
History lesson Ground was broken on this new stadium in March 2015. It is situated in Strelka, a western district of Nizhny Novgorod, and is one of several World Cup stadiums to be placed attractively by a river – or two, in this case, at the confluence of the Volga and the Oka. Work on the project is expected to be over by Christmas.
Star attraction The design promises to be one of the World Cup's most striking, with slim pillars supporting from the outside and surrounding a semi-transparent facade. But the view over the 500-year-old Nizhny Novgorod Kremlin is the real selling point and the sense of place should be strong.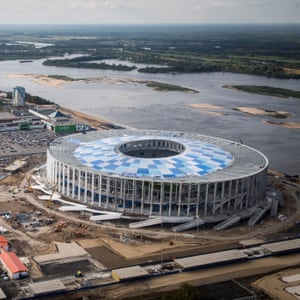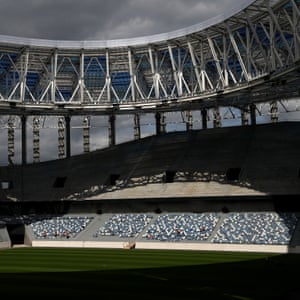 Any hitches? Plumes of black smoke were seen rising from the site in October after a fire broke out. It looked more serious than it was, thankfully, and appears to have had little impact on either the delivery or those working on the project. This aside, the process has been relatively smooth.
Legacy Olimpiyets Nizhny Novgorod (previously known as Volga) will play their games here, and the second-tier club will presumably hope matches there attract more interest than their most recent two home games – played in nearby Dzerzhinsk ­– which recorded an aggregate attendance of 900. Other sports may well be played inside the arena too.