History lesson Ground for the Cosmos Arena was broken in 2014. The project has been controversial locally and its originally mooted location on an island outside the city was rejected after heavy criticism. It has not been an easy ride towards construction although the end product should, amid an attractive green setting, be pleasing to the eye.
Star attraction This should be one of the tournament's more striking venues. Samara is proud of its history as one of the primary hubs of the Soviet space programme and the 65m-high glass dome, which will be lit up at night, promises to be spectacular. The city itself should be an enjoyable visit – raw, energetic and beautifully situated at the confluence of the Samara and Volga rivers.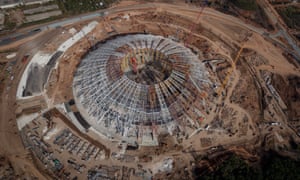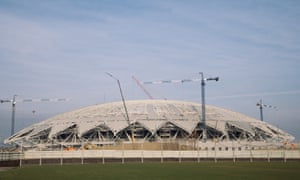 Any hitches? Samara is arguably the bad boy of Russia's lagging stadium projects. It has been riddled with delays, while costs have soared and by mid-2015 it was already more than €40m over its original budget. That contributed to a change of constructor in early 2016. A number of tweaks to the original plan – including a downscaling of the dome, intended to be 80m high – had to be made to cut costs and prevent it falling further behind schedule, while in August a fire added to the many difficulties. It will be ready in time for the tournament, but the surrounding infrastructure will not have had much of a road test – presumably taxis and dedicated buses will be the most reliable means of getting there.
Legacy Local side Krylia Sovetov (whose name, wonderfully, means "Wings of the Soviets") are expected to move there from their creaking Metallurg Stadium – which is itself worth a look if you can brave an iffy neighbourhood. They have been a yo-yo club recently but look on course for a return to the top flight next season. It is an old club with rich tradition but, even so, it would take some turnaround for them to fill the ground. A residential development is expected to surround the new structure in good time.